Senator Bill Sample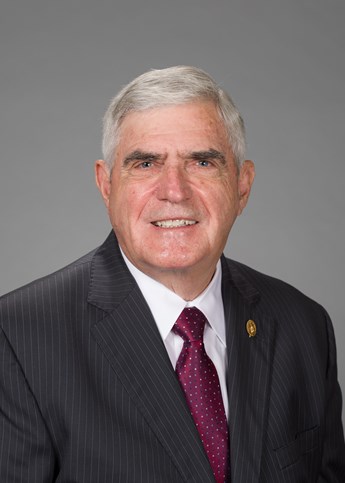 (Download High-Res Photo)
District: 14
Seniority: 9
District Address: 2340 N. Hwy. 7, Hot Springs, 71909
Phone:

(501) 627-5386

Email: Bill.Sample@senate.ar.gov
Party: Republican
Occupation:

Owner Termite/Pest Control Company

Legislative Service:

Senate 2011, 2013, 2015, 2017, 2019, 2021




House 2005, 2007, 2009
Senator Bill Sample has represented Hot Springs in the Arkansas legislature since 2005.  He was sworn in to the Arkansas Senate in 2011.
District 14 includes parts of Garland and Saline Counties. Senator Sample is Assistant Pro Tempore for the Fourth Congressional District.
Senator Sample is chair of the Senate Revenue and Taxation Committee and chair of the Legislative Council's Medical Marijuana Oversight Subcommittee.
He is vice chair of the Council's Administrative Rules Subcommittee.  Senator Sample is on the Senate Committee for Agriculture, Forestry and Economic Development, the Senate Efficiency Committee, the Joint Retirement and Social Security Committee, the Joint Budget Committee and the Legislative Council.
He is a past Senate co-chair of the Retirement Committee, and he has sponsored numerous bills affecting state retirement systems.
Senator Sample has co-sponsored laws affecting titles of watercraft, expediting motor vehicle title processing and allowing temporary preprinted paper tags for trailers and semi-trailers
He served in the House of Representatives from 2005 through 2010, representing House District 30. He was chair of the House Public Transportation Committee.
Also, he has sponsored legislation to revise procurement laws, to allow school boards to meet in executive session when discussing the appeal of a suspension or expulsion of a student and to allow confiscated goods to be sold over the Internet for the benefit of police pension and relief funds. 
In 2013, Sample was named Arkansas Legislator of the Year by the Arkansas Forestry Association and Legislator of the Year by the State Chamber of Commerce. 
Senator Sample and his wife, Betty Ann, are the former owners of Pestco Incorporated, a termite and pest control company in Hot Springs.  After 35 years they sold the company. 
Senator Sample and his wife have two daughters and are members of the Methodist Church.
Senator Bill Sample
For even more member and bill details.
Senate District 14 Map