Senator Lance Eads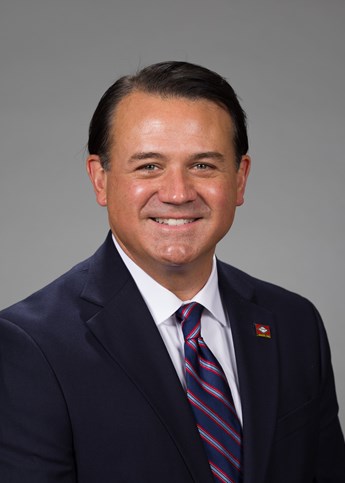 (Download High-Res Photo)
District: 7
Seniority: 22
District Address: P.O. Box 8343, Springdale, 72766
Phone:

479-435-5139

Email: Lance.Eads@senate.ar.gov
Party: Republican
Occupation:

Springdale Chamber of Commmerce

Legislative Service:

Senate 2017




House 2015,
Senator Lance Eads represents District 7, which includes Springdale, Johnson, Goshen and Elkins in eastern Washington County. 
Senator Eads is Assistant Pro Tempore for the Third Congressional District.
He chairs the Senate Rules, Resolutions and Memorials Committee and is a member of the Senate Education Committee, the Senate Transportation, Technology and Legislative Affairs Committee, the Joint Energy Committee, the Joint Budget Committee and the Legislative Council.
In 2021 Senator Eads co-sponsored legislation to increase penalties for unlawfully passing a stopped school bus. He was the Senate sponsor for numerous bills affecting public schools.
In previous legislative sessions Senator Eads sponsored bills affecting the duties of elected county and city officers, and the extent to which cities and towns can regulation building construction. He was a co-sponsor of the major job creation and economic development measure enacted in 2017.
Senator Eads served in the House of Representatives for two years before his election to the Senate in 2016. 
Before being elected to the legislature, he served as a Justice of the Peace in Washington County and worked for the Springdale Advertising and Promotion Commission. 
Senator Eads is a vice president for the Springdale Chamber of Commerce.
He graduated from Ouachita Baptist University in Arkadelphia with a BSE in Education.
He and his wife, Kim, have two daughters. They are members of Cross Church Baptist Church in Springdale.
Senator Lance Eads
For even more member and bill details.
Senate District 7 Map