Senator Larry Teague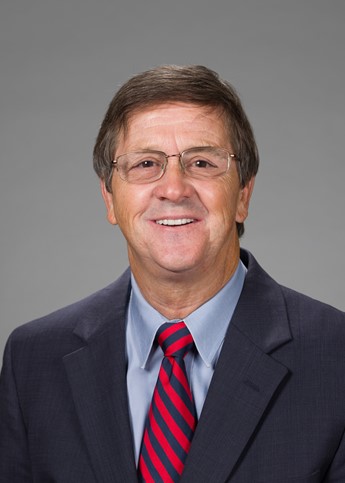 (Download High-Res Photo)
District: 10
Seniority: 3
District Address: P.O. Box 903, Nashville, 71852
Phone:

870-845-5303

Email: Larry.Teague@senate.ar.gov
Party: Democrat
Occupation:

Insurance

Legislative Service:

Senate 2009, 2011, 2013, 2015, 2017, 2019, 2021




House 1997, 1999, 2001
Senator Larry R. Teague represents Senate District 10, which includes Howard, Montgomery, Pike and Polk Counties and parts of Clark, Hempstead, Nevada and Sevier Counties. As an advocate for rural Arkansas he supports hospitals, highways, schools, job training, high speed Internet access and water projects.
Senate Teague currently is the vice chair of Senate Insurance and Commerce and a member of the Senate Revenue and Taxation Committee.  He also serves on Joint Retirement and Social Security Committee, Senate Efficiency Committee, Joint Budget Committee, Arkansas Legislative Council and is on several subcommittees.  Senator Teague is the Minority Whip for the 93rd General Assembly.
Prior to his election to the Senate in 2008, he served for six years in the House of Representatives from 1997 through 2002. As a freshman member of the House in 1997 he was named vice chairman of the Revenue and Taxation Committee. In 1999 he became chair of the House Revenue and Taxation Committee and served in that role for the remainder of his tenure in the House.
As a freshman senator in 2009 he became chair of the Senate Revenue and Taxation Committee. Then, in 2013 Senator Teague took on a new leadership position, becoming the Senate co-chair of the Joint Budget Committee. He served in that position for four straight General Assembly Sessions. 
Senator Teague has been recognized by numerous advocacy groups for his legislative work. His list of honors includes:
2013 Champion of Advanced Energy, Arkansas Advanced Energy Association
2013 Legislator of the Year, Arkansas Forestry Association
2011 Arkansas Prosecuting Attorneys Association Advocate of Justice Award
2011 Appreciation Award for Legislative Efforts and Support, Arkansas Dental Association
Outstanding State Legislator of 2011, Arkansas State Employees Association
2011 Community Service Award, Mental Health Council
2011 Freedom Champion Award from Arkansas Bikers Aiming towards Education
2011 Kids Count Coalition Champion, Arkansas Advocates for Children and Families
2002 Rural Advocate of the Year
2001 - Named by the Arkansas Democrat-Gazette as one of the Ten Best Legislators of the General Assembly
2001 Arkansas Municipal League Distinguished Service Award
Legislator of the Year, Arkansas School Counselors Association - Southwest Region
Statesmanship Award, Arkansas Hospital Association.
A native of Nashville, Senator Teague attended the University of Arkansas and Texarkana Community College. He is a former alderman on the Nashville City Council.  He has an insurance agency in Nashville, and as a young man he was assistant manager of the Skaggs Alpha Beta grocery store in Texarkana.
Senator Teague is active in numerous civic groups, including the Arkansas Hunger Relief Alliance.  He and his wife Debbie have one son and one daughter and three grandchildren.  Senator Teague attends First United Methodist Church of Nashville, where he teaches Sunday school and is a lay speaker.
Senator Larry Teague
For even more member and bill details.
Senate District 10 Map